Description
MJ-902SE is an upgraded and improved version of the MJ-902 for Ebikes, Small form factor with extremely high output. Ideal for mountain, offroad biking. E-bike ready.
3000 lumens max verified output from 2x Luminus SST-40 LEDs
250m max beam distance, 9100CD beam intensity
3000, 1500, 1000 and 450 lumen brightness modes, 2 flash modes and standalone DRL mode
Warm tint enhances night vision, reducing glare and soften shadows
Each LED can be turned off/on independently
E-bike Specific, auto adapts to input voltage within 6-12V range.
Compatible with mainstream motors like Bosch, Brose, Shimano and Yamaha
Durable aluminum alloy housed light head weighs 78g on its own.
Garmin handle bar mount, (helmet mount not included)
Please note Adaptor cable will be Needed.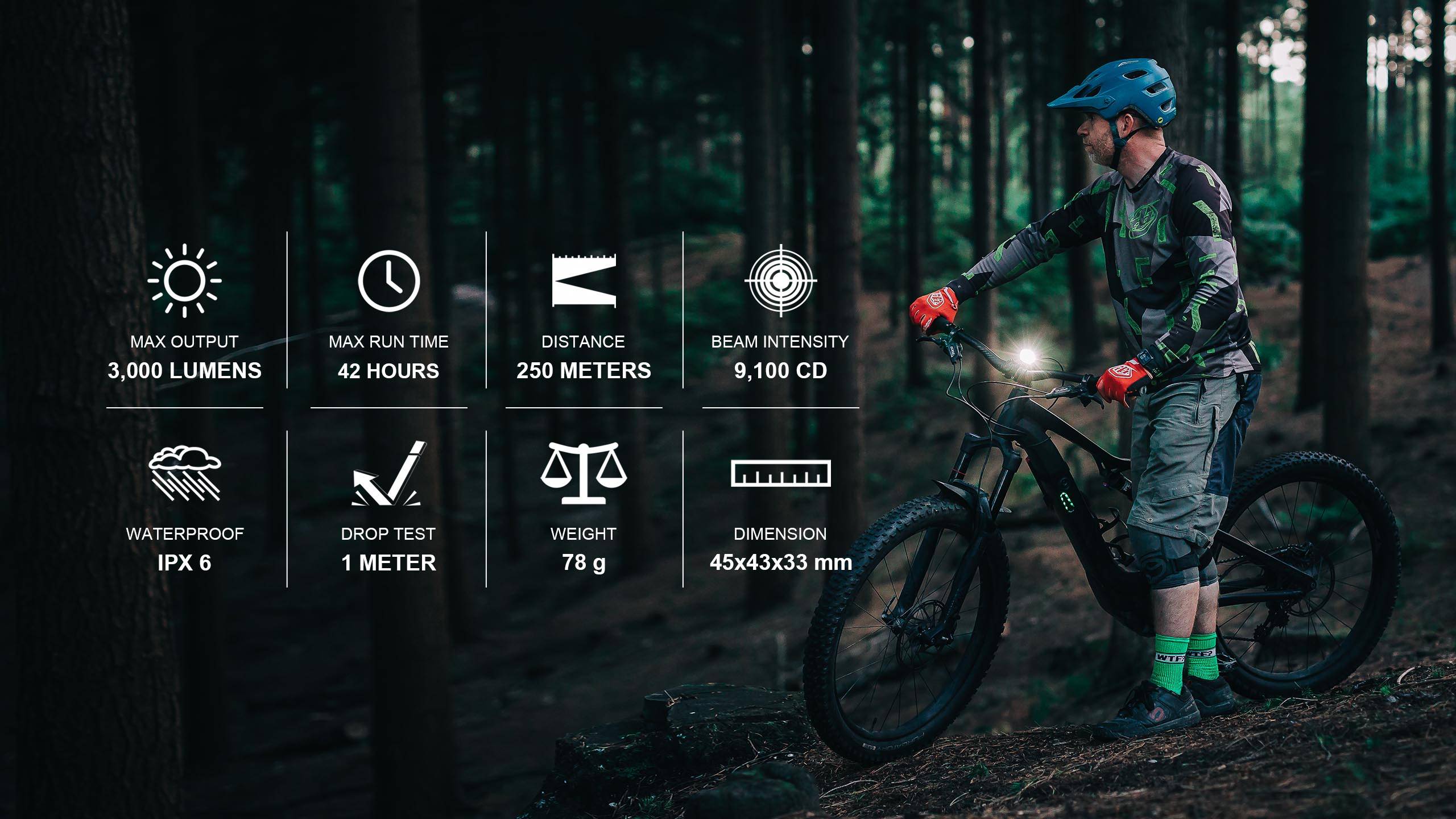 MJ-902S is a super powerful mountain bike headlight powered by your Ebike Battery . Along with its smaller cousin MJ-900S, also offering 6V-12V compatibility as an e-bike LED light able to integrate seamlessly into a lot of mainstream e-bikes models.Two super bright and power efficient Luminus SST-40 LEDs with a maximum FL1 verified output of 3000 lumens, providing 15 possible brightness settings including DRL(Daytime Running Light) mode, covering all environments and riding scenarios. Aside from the independent DRL, we have added side lighting to improve rider's passive visibility for traffic traveling along side the rider, as well as vertical light diffuser to blue and divert light beams that would other wise blind oncoming traffic.The built-in smart thermal control system and the large-area metallic heat dissipation fins keep MJ-9062's operating temperature at optimal levels, protecting internal circuits and maintaining max output.Some Motors require unlocking to get full watts for higher lumen.

Ebike Light will be set in the Ebike mode ready, once installed DO NOT press the power button longer than 10 Sec's this will disable ebike mode and will need resting from a battery.

Ebike has an inbuilt ambient sensor, if daylight the light will only run in DRL mode.

As an e-bike LED light, MJ-902S automatically adjusts its output levels when power input is within a 6V-12V DC range, compatible with mainstream motors from manufacturers like Bosch, Brose, Shimano and Yamaha. Specialized cables required which is not included in the retail packaging.

E-BIKE MODEBrightness VS Power

Limited Power(W)
Product Power (W)
Brightness

(LM)

10
4-8
400-1000
20
10-18
1800
30
20-28
2800
40
30-37
3000